(Click here for Blog Archive)
(Click here for Blog Index)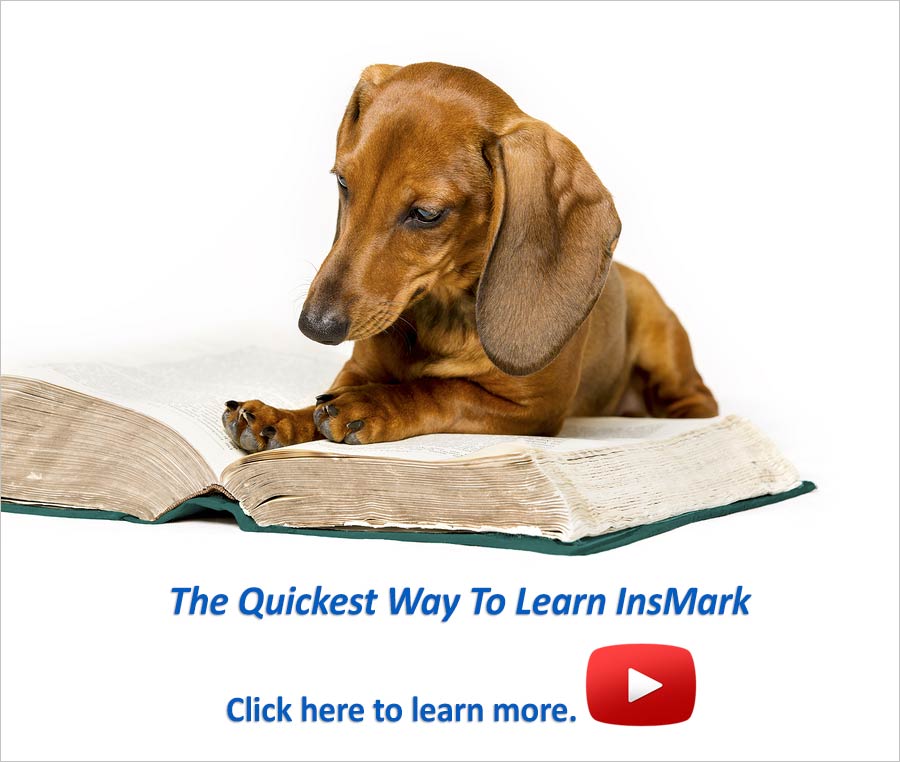 Note from Bob: The new concepts presented in this Blog are the brainchild of Don Prehn, a Board Member and Senior Advisor for InsMark. Don serves as one of the editors of this Blog and provides guidance on the overall web-based client service and education and sales strategies for InsMark's suite of software products.
DO WE HAVE A TREAT FOR YOU!
We frequently get one of the following questions from our InsMark software users or Blog readers:
"I haven't used InsMark for a while . . . can you help me learn to do more things with the software?"
"Can you help me learn how to create a presentation that was shown in one of the Blogs?"
"I have producers in my agency and/or staff that need to learn how to use the InsMark software. What's the best way to proceed?"
For answers to these questions, just click on the image above (the "dog reading the book"). This will take you to a web page entitled "The Quickest Way To Learn InsMark". Once there, as you scroll down a little, you will also see a video with the caption ("Easy As 1, 2, 3"). Watch this video! It will explain the powerful new training resources we have that will give you the "keys to the safe" on how to use InsMark like a pro for virtually any situation.
As you watch the "Easy As 1, 2, 3" video noted above, it also explains the importance of using InsMark's Digital Workbook files which are the source of all InsMark presentations (discussed in the instructional video below). That said, we strongly encourage you to watch the "Easy As 1, 2, 3" video first before viewing the one below.
This Blog #138 has no InsMark presentations or accompanying Workbook files.
We've tested "The Quickest Way To Learn InsMark" with several of our individual and independent marketing organization licensees, and the feedback has been tremendous — and uniformly positive. If you'll spend a few minutes watching the videos (described above), you'll see how this new process literally takes all of the guesswork out of creating customized InsMark presentations for your clients.
We're thrilled to provide this new sales and training resource and hope you find it useful.
(Click here for Blog Archive)
(Click here for Blog Index)
Licensing InsMark Systems
To license any of the InsMark software products, visit our Product Center or contact Julie Nayeri at Julien@insmark.com or 888-InsMark (467-6275). Institutional inquiries should be directed to David Grant, Senior Vice President – Sales, at dag@insmark.com or (925) 543-0513.
InsMark's Referral Resources
(Put our Illustration Experts to Work for Your Practice)
We created the Referral Resources listed below to deliver a "do-it-for-me" illustration service in a way that makes sense for your practice. All are IMOs and InsMark Agency Platinum Power Producers®, and they are highly skilled at running InsMark software. They will utilize your choice of insurance company, and they do not require a commission split.
Mention my name when you talk to our Referral Resources as they have promised to take special care of my readers. My only request is this: if a Referral Resource helps you get the sale, place at least that case through them; otherwise, you will be taking unfair advantage of their generous offer to InsMark licensees.
Save time and get results with any InsMark illustration!
Testimonials
"InsMark has created without question the best suite of software for our industry that has ever existed. I personally have been using their software for almost 30 years, and it changed my career. This unique and user friendly software will add many thousands to your income for as long as you're in business. InsMark makes me look good, and it will you as well."
Simon Singer, CFP®, CAP®, RFC®, Past President International Forum, InsMark Platinum Power Producer®, Encino, CA
"InsMark is the Picasso of the financial services world — their marketing savvy never fails to amaze me."
Doug Peete, Past President, Top of the Table, InsMark Silver Power Producer®, Overland Park, KS
"I really thought I knew all the sales techniques that affect my business, but I do now, thanks to InsMark."
Sam Keck, MBA, CLU, CFP, LUTCF, InsMark Platinum Power Producer®, Financial Planner, Denver, CO
"For three decades, InsMark software has been the leader in presentation software for life insurance. Nothing holds a candle to it. If you are in the retirement, estate or charitable planning arena, this is the easiest AND most powerful software on the planet. I highly recommend it."
Scott Keffer, Advisor Coach, Best Selling Author, Creator of Double Your Affluent Clients®, Pittsburgh, PA
Important Note: The information in this Blog is for educational purposes only. In all cases, the approval of a client's legal and tax advisers must be secured regarding the implementation or modification of any planning technique as well as the applicability and consequences of new cases, rulings, or legislation upon existing or impending plans.

More Recent Blogs:
Blog #137: More On "The Best Policy for My Client"
Blog #136: Taking Care of a Rainmaker
Blog #135: Merging College and Retirement Planning
Blog #134: Best Strategy for an IRA (Part 2 of 2)
Blog #133: Best Strategy for an IRA (Part 1 of 2)
3 Reasons Why It's Profitable For You To Share These
Blog Posts With Your Business Associates and
Professional Study Groups (i.e. "LinkedIn")
Robert B. Ritter, Jr. Blog Archive