(Click here for Blog Archive)
(Click here for Blog Index)
(Presentations in this blog were created using the InsMark Illustration System, Cloud-Based Documents On A Disk™ and InsMark Business Valuator.)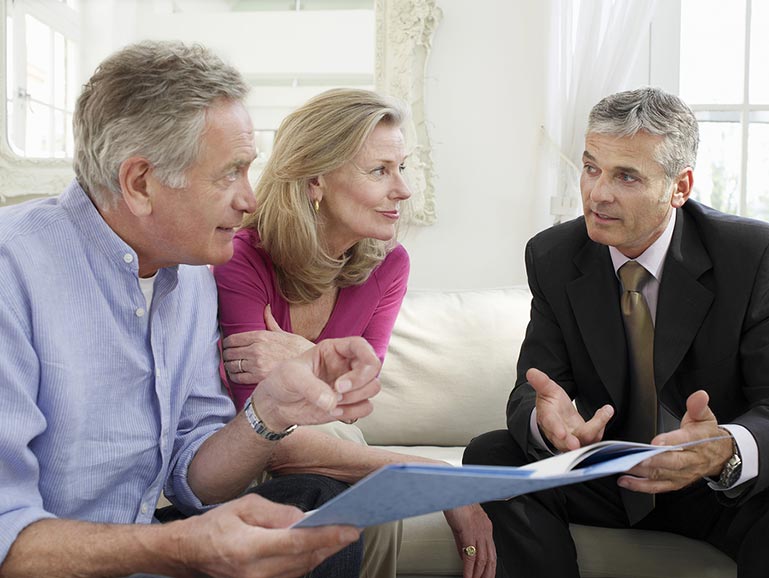 Editor's Note: Blog #45 is the fifth and last in a series of Blogs involving several topics that are associated with the decision to sell a closely-held business, all of which provide opportunities for you to develop some serious production. The series is based on the results of the valuation of Acme Ford, LLC, using the InsMark Business Valuator (powered by BizEquity). (See Blog #41 for details of the valuation.)
Prior Blogs in the series are:
Review Blog #41: If We Sell Our Business, Can We Afford to Retire?
Review Blog #42: Adding Key Executive Coverage
Review Blog #43: Golden Handcuffs for Tom Hamilton, CMO
Review Blog #44: Alternate Golden Handcuffs for Tom Hamilton, CMO
Blogs #43 and #44 involved an examination of non-qualified executive benefit plans for Tom Hamilton, Chief Marketing Officer and a key non-owner executive of the Limited Liability Company owned by George and Marie Grove. The goal is to provide a benefit package to Tom that causes him to remain with the firm for at least the next seven years (including two years after the expected sale of the company).
In Blog #43, we featured a Controlled Executive Bonus Plan for Tom, age 40, that provides him with substantial survivor and retirement benefits from an investment-grade life insurance policy owned by Tom. (These plans are typically funded with Indexed Universal Life or Whole Life with Paid-Up Additions; this Blog series features Indexed Universal Life.)
Premiums are paid from gross-up employer bonuses, a strategy that includes the tax on the bonuses. The plan has a feature called a "Controlled Bonus" where, subject to the terms of a separate Employment Agreement, Tom is required to repay the bonus under certain circumstances such as voluntary termination of employment prior to a certain date or event described in the Agreement or termination by the employer for cause.
Click here to watch a short video of the Controlled Executive Bonus concept and its documentation.
For working Americans below their mid-40s, disability is a more common economic risk than death. A personal disability income ("DI") policy is an important financial addition that Tom should have in his benefit package, and this Blog will show you how to include it in a Controlled Executive Bonus Plan. We selected a DI policy for Tom with a $7,200 annual premium, a 90-day elimination period, and a monthly non-taxable benefit of $12,750 lasting until age 65 (a potential total benefit of close to $4,000,000).
The Indexed UL policy is the foundation of Tom's Controlled Executive Bonus Plan. It has more than sufficient participating policy loan values to provide the $7,200 in premiums for the DI policy — in all years but the first where policy loans are typically not available.
George Grove, Tom's employer, chimes in, "How about we increase the bonus enough to cover the disability premium in the first year, and Tom can use his policy loan values for the rest of them."
Click here to review the illustration using the Executive Security Plan module located on the Executive Benefits tab in the InsMark Illustration System. As you will see, we have a plan with the following five benefits:
Deductible funding;
Potential recovery of the bonuses if the executive terminates;
Tax free death benefits for the executive's family;
Tax free disability income for the executive;
Tax free retirement cash flow for the executive.
Note: The Flow Chart on Page 1 of the illustration is not yet part of the InsMark Illustration System as the idea of including a DI policy in a Controlled Executive Bonus Plan just occurred to me. We will add that capacity to Version 18.0 along with a variation that includes long-term care insurance.
In the meantime, if you would like to have working copies of both Flow Charts, email marketing@insmark.com and ask for copies of the "Controlled Executive Bonus Flow Charts from Blog #45" reflecting executive bonus plans coupled with disability income insurance and long-term care insurance. Until we get them in our copyrighted System, the Flow Charts should reflect our copyright at the bottom.
Evaluation Resource
We were able to develop Tom's combination benefit plan for two reasons:
We were alerted to Tom's financial value as we reviewed the results of the appraisal of his employer, Acme Ford, LLC, by the InsMark Business Valuator (powered by BizEquity). Click here if you would like to view our webinar on the InsMark Business Valuator. Click here if you would like to visit the InsMark Business Valuator website.
For some time, we have been searching for a disability insurance organization to partner with InsMark as part of our Referral Resource network. As a result, we selected Disability Insurance Services ("DIS") of San Diego, headed by Dan Steenerson, President and CEO. I was very impressed with Dan's organization as I was gathering information for this Blog, most particularly their marketing savvy coupled with their exclusive Analyzer comparing the benefits of several DI policies side-by-side. Click here to review an example of the DIS Analyzer.
Click here for a three-minute video by Dan Steenerson explaining what we believe are his firm's key disability resources that may be most applicable to your practice. Back when I was totally involved in production, I decided to stop selling DI policies as the murderous underwriting had simply worn me out. Dan tells me that this issue has lightened considerably, and he addresses this concern in his remarks.
Click here for a link to the InsMark DI Quoting Service to put DIS to work for you. Services include quotes for:
Individual Disability Income Insurance
Business Overhead Expense Insurance
Disability Buy/Sell Insurance
Critical Illness Insurance
Long Term Care Insurance
Bank Loan (ensuring repayment of loans)
Key Person
If you have a case where you would like to speak with someone at DIS, contact Ben Coleman, Sales & Marketing Manager, in San Diego at 619.284.8444 x8402 or bcoleman@diservices.com.
Documentation

The documentation for the Controlled Executive Bonus Plan is different than a typical Executive Bonus Plan. Version 21.0 (and higher) of InsMark's Documents On A Disk™ has specimen plan documents for this plan in the Executive Bonus Plan category located in the Key Employee Benefit Plans section. If you use this concept, you will need these documents. (If you include the disability income feature, your client's counsel should insert the appropriate language. We will add this option in the next enhancement of Documents On A Disk.)
InsMark's Digital Workbook Files
If you would like some help creating customized versions of the presentations in this Blog for your clients, watch the video below on how to download and use InsMark's Digital Workbook Files.
Digital Workbook Files For This Blog
Download all workbook files for all blogs
Note: If you are viewing this on a cell phone or tablet, the downloaded Workbook file won't launch in your InsMark System. Please forward the Workbook where you can launch it on your PC where your InsMark System(s) are installed.
To license the InsMark Illustration System and/or Documents On A Disk, contact Julie Nayeri at julien@insmark.com or 888-InsMark (467-6275). Institutional inquiries should be directed to David Grant, Senior Vice President – Sales, at dag@insmark.com or 925-543-0513.
InsMark's Referral Resources
If you would like assistance with a Controlled Executive Bonus Plan illustration for one of your prospects or clients (or help with other InsMark illustrations), contact any of the Referral Resources listed below. They are all highly skilled at running InsMark software and can help you using your choice of insurance company. Mention my name when you talk to one of our Referral Resources as they have promised to take special care of my readers.
Testimonials:
"As a top national brokerage firm representing many insurance companies, the InsMark Illustration System has everything we need in an advanced marketing presentation system."
Gary M. Baker, President/CEO, Bloom-Baker/Asensus of New England, Boston, MA
"I really thought I knew all the sales techniques that affect my business, but I do now, thanks to InsMark."
Sam Keck, Financial Planner, Denver, CO
Important Notice
The information in this Blog is presented for educational purposes only. In all cases, the approval of the participants' legal and tax advisers must be secured regarding the implementation or modification of any planning technique as well as the applicability and consequences of new cases, rulings, or legislation upon existing or impending plans.

More Recent Blogs:
Blog #44: Alternate Golden Handcuffs for Tom Hamilton
Blog #43: Golden Handcuffs for Tom Hamilton
(Part 3 of "Valuing the Business")
Blog #42: Adding Key Executive Coverage
(Part 2 of "Valuing the Business")
Blog #41: If We Sell Our Business, Can We Afford to Retire?
(Part 1 of Valuing the Business)
Blog #40: Leveraged Deferred Compensation
3 Reasons Why It's Profitable For You To Share These
Blog Posts With Your Business Associates and
Professional Study Groups (i.e. "LinkedIn")
Robert B. Ritter, Jr. Blog Archive