(Click here for Blog Archive)
(Click here for Blog Index)
(Presentations in this blog were created using the Premium Financing System and Wealthy and Wise®.)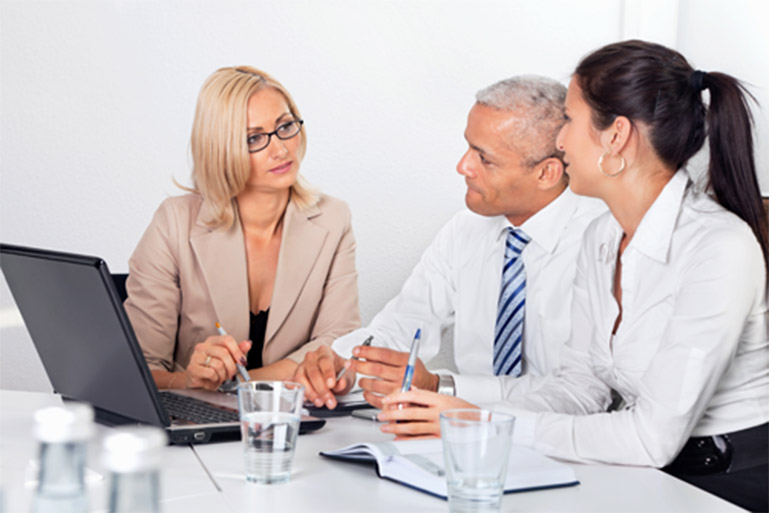 Last week in Blog #97, we were treated to a Guest Blog by Mark Pace, President and Founder of Objectiview, Inc., in which he discussed using InsMark's Wealthy and Wise® System as a chassis for charging fees for a variety of monitoring services provided by you.
Mark's fee rationale is driven by this: "The value you create by charging fees is worth far more than the fees themselves."
InsMark Case Study - Fees vs. No Fees
There are two significant advantages to charging a monitoring fee:
The continuing fee revenue flow adds both to your cash flow and the value of your practice.
By regularly updating data, it helps keep competitors at bay.
There is a simple way to include such fees as part of the client presentation -- particularly if you are using InsMark's Wealthy and Wise® and have directed the program to pay the fees via asset allocation -- not paid out-of-pocket by the clients.
Blog #96: Retirement Cash Flow Funded by Premium Financing released two weeks ago presents a classic opportunity to introduce a monitoring fee. Blog #96 is a triple-barreled analysis involving premium financing injected into Wealthy and Wise. In this example, the following three items need to be monitored over the 55 years of the evaluation (or until the clients' deaths):
The premium financing transaction until the bank loan is repaid;
The life insurance policy involved in the premium financing;
All the components of the Wealthy and Wise evaluation.
In the absence of such monitoring, all three stages are likely to fall apart creating a disgruntled, and perhaps litigious, client and, to say the least, an embarrassed "you".
What should monitoring include for the Case Study covered in Blog #96?
Premium Financing: It ensures new loans are made for subsequent premiums, the client makes timely payments for loan interest, collateral is adequately maintained, and the payoff of the loan is made as scheduled.
Life Insurance: It ensures the life policy values develop as illustrated -- or are at least within a specified tolerance. Increases and decreases in premiums and/or death benefits may be recommended.
Wealthy and Wise: It ensures that all plan data is evaluated yearly, pertinent changes are made, and new data is integrated.
Below is the key net worth graphic from Blog #96 which involves no monitoring fees:
Blog #96
Strategy 1: Current Plan
Strategy 2: Add Premium Financing
Strategy 3: Increase Retirement Cash Flow
No Out-of-Pocket Cost to Clients
(Policy funded with bank loans, loan interest paid from client
assets, and policy loans repay the bank loan in Year 11.)
Strategy 3 reduces the gain in net worth while
producing over $11.5 million of additional
spendable retirement cash flow.
Let's re-do the Blog #96 analysis as a Blog #98 analysis and include the monitoring fees shown below beginning in year 2.
Monitoring Fee Assumptions¹
Wealthy and Wise: $5,000 annual fee for:
Revised data entry (changes in assets, benefits, and liabilities);
Confirming or changing all assumptions;
Confirming (or modifying) desired retirement cash flow goals;
Revised net worth and wealth to heirs projections.
Life Insurance Policy: $2,500 annual fee for monitoring sustainability of policy premiums and values based on re-proposal technology;
Premium Financing: $2,500 annual fee through year 10 (until the bank loan is repaid at the beginning of year 11);
¹Total monitoring fees: $10,000 in years 2 through 10; $7,500 thereafter -- all indexed at 3.00% for a cost of living adjustment.
Assume the Sullivans have decided on Strategy 3 (increased retirement cash flow). To see the impact of the monitoring fees, we'll compare Strategy 3 from Blog #96 (we'll rename this Strategy 3a) with Strategy 3 from Blog #98 (we'll name this Strategy 3b).
Below is the revision in net worth that would occur with the monitoring fees noted above for Strategy 3b. The fees have been incorporated on the Spendable Cash Flow Required report and are withdrawn from assets. They do not require out-of-pocket cost from the client.
Blog #96 vs. Blog #98
Strategy 3a: Increased Cash Flow with No Monitoring Fees
Strategy 3b: Increased Cash Flow with Monitoring Fees
Neither Strategy Has Out-of-Pocket Cost to Clients
(Policy funded with bank loans, loan interest and monitoring fees paid
from client assets, and policy loans repay the bank loan in Year 11.)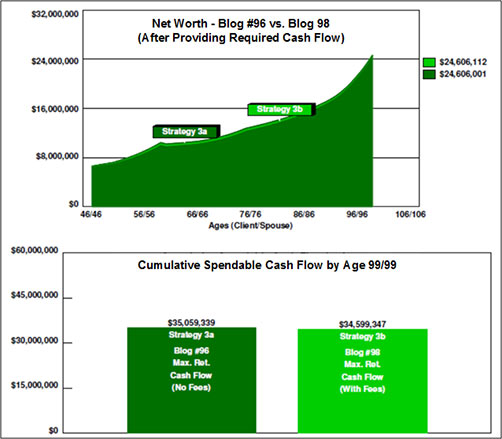 Note that the cumulative, projected, after tax, retirement cash flow of Strategy 3b ($34,599,347) in Blog #98 has been reduced by only 1.31% from the corresponding cash flow of Strategy 3a ($35,059,339) in Blog #96. That small reduction will provide year after year monitoring of the Sullivan's master plan for retirement.
Click here to see how the monitoring fees are illustrated in the Spendable Cash Flow Required report from Strategy 3b. This report is numbered Page 45 and Page 46 which is its position in the full illustration available below.
The power of this approach is that the monitoring fees are packaged within the wealth analysis. When you get to the Spendable Cash Flow Required report in your presentation to the client (or the advisers), consider making this point:
"These fees are designed so that I am able to monitor and adjust each aspect of your wealth plan every year as circumstances and data changes. Every year, we analyze all the moving parts and recalculate them -- all of them -- over again."
Click here to view all the reports from Blog #96 vs. Blog #98 -- divided into three sections:
Comparison of Strategies 3a and 3b (Pages 1 - 5);
Strategy 3a (Blog #96): No Monitoring Fees (Pages 6 - 39);
Strategy 2: Add Premium Financing (Pages 40 - 73).
That is a large number of reports; however, with a Wealthy and Wise evaluation, I recommend that you have all the reports for a given case with you when you are visiting with a client or client's attorney or CPA. Wealthy and Wise backs up every number shown, and you never know which report you'll need to answer the inevitable question, "Where did this number come from?" That's why I provided all of them to you in this Blog so you can familiarize yourself with them.
Most Wealthy and Wise users select a few key illustrations for the main report and put the balance in an Appendix.
Note: Special thanks are due to Simon Singer, InsMark Platinum Power Producer, Symposium attendee, and close friend to InsMark for the descriptive term "monitoring" fee.
InsMark's Digital Workbook Files
If you would like some help creating customized versions of the presentations in this Blog for your clients, watch the video below on how to download and use InsMark's Digital Workbook Files.
New Zip File Downloaders
Watch the video.
Digital Workbook Files For This Blog
Experienced Zip File Downloaders Download the zip file, open it, and double click the Workbook file name to open it in your InsMark System.
Note: If you are viewing this on a cell phone or tablet, the downloaded Workbook file won't launch in your InsMark System. Please forward the Workbook where you can launch it on your PC where your InsMark System(s) are installed.
Licensing InsMark Systems
To license Wealthy and Wise or the Premium Financing System, contact Julie Nayeri at julien@insmark.com or 888-InsMark (467-6275). Institutional inquiries should be directed to David Grant, Senior Vice President - Sales, at dag@insmark.com or (925) 543-0513.
InsMark's Referral Resources
(Put our Illustration Experts to Work for Your Practice)
We created the Referral Resources listed below to deliver a "do-it-for-me" illustration service in a way that makes sense for your practice. All are IMOs and InsMark Agency Platinum Power Producers®, and they are highly skilled at running InsMark software. They will utilize your choice of insurance company, and they do not require a commission split.
Mention my name when you talk to our Referral Resources as they have promised to take special care of my readers. My only request is this: if a Referral Resource helps you get the sale, place at least that case through them; otherwise, you will be taking unfair advantage of their generous offer to InsMark licensees.
Save time and get results with any InsMark illustration!
Joint Interviews
If you want or need help from a qualified producer for joint interviews with any InsMark illustration and are willing to share the case, email us at bob@robert-b-ritter-jr.com, and we will provide you with recommendations.
Testimonials:
"Major cases we are developing have all moved along successfully because of the sublime simplicity and communication capability of Wealthy and Wise. I guarantee that the proper use of this tool will dramatically raise the professional and personal self-image of any associate who dares to take the time to understand it."
Phillip Barnhill, CLU, Minnetonka, MN, InsMark Gold Power Producer®
"As with all of the InsMark software, InsMark's Premium Financing System has proven to be an indispensable addition to my ability to show my clients the advantages in using a "Financed Premium" concept to solve their financial needs. Because of this, I was able to close three large financed premium cases easier and faster than ever before. I no longer need to use the cumbersome and illegible spreadsheets provided to me from other sources. As everyone understands, Premium Finance is a complex and involved concept to undertake. With the InsMark Premium Financing System, I am now able to show my clients a professional rendering of Premium Finance that is concise and easy to understand. As always, InsMark has delivered again. I encourage all who use Premium Finance as a solution to their clients' needs to purchase this system. The cost of the system is not an expense, but rather an investment in your business."
William Moates, Jr., Trilennium Financial Alliance LLC, Fort Smith, AR, InsMark Platinum Power Producer®

More Recent Blogs:
Blog #97: The Value of "You" to Your Clients (Part 1 of 2)
Blog #96: Retirement Cash Flow Funded by Premium Financing
Blog #95: How Much Do I Really Need?
Blog #94: How to Double Your Affluent Clients
Blog #93: Maybe the Best Executive Benefit Plan Ever
3 Reasons Why It's Profitable For You To Share These
Blog Posts With Your Business Associates and
Professional Study Groups (i.e. "LinkedIn")
Robert B. Ritter, Jr. Blog Archive