(Click here for Blog Archive)
(Click here for Blog Index)

In last week's Blog #76: Smart Use of Term Coverage for Funding College Costs, we featured a video by Steve Savant and Don Prehn in which they discuss Blog #46: Let's Make Sure the Girls Go to College.  It involved how much life insurance Tom and Kristin Scott, age 40 and 35, should acquire to take care of their two daughters, Daisy and Jody, age 10 and 8, through their college years should something happen to Tom and Kristin.
The recommendation was $500,000 of 15-year term insurance coverage on each parent.  Tom's annual premium is $600; Kristin's annual premium is $400.
Steve and Don also produced a video regarding my Blog #47: Tom and Kristin's Retirement Planning that integrates funding for the cash flow needed for their daughters' college costs along with their own retirement planning.  The solution includes a significant amount of permanent life insurance instead of term insurance.  Steve and Don's video has a very effective summary of the concepts in Blog #47, and you can view it below.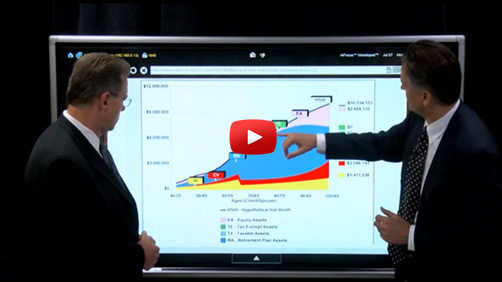 After viewing Don and Steve's video, click here to visit Blog #47 for a detailed exploration of this comprehensive college and retirement funding concept plus a look at the actual illustrations and graphics.
InsMark's Digital Workbook Files
If you would like some help creating customized versions of the presentations in this Blog for your clients, watch the video below on how to download and use InsMark's Digital Workbook Files.
New Zip File Downloaders
Watch the video.
Digital Workbook Files For This Blog
Experienced Zip File Downloaders Download the zip file, open it, and double click the Workbook file name to open it in your InsMark System.
Note: If you are viewing this on a cell phone or tablet, the downloaded Workbook file won't launch in your InsMark System. Please forward the Workbook where you can launch it on your PC where your InsMark System(s) are installed.
Licensing
To license Wealthy and Wise, contact Julie Nayeri at julien@insmark.com or 888-InsMark (467-6275).  Institutional inquiries should be directed to David Grant, Senior Vice President – Sales, at dag@insmark.com or 925-543-0513.
Referral Resources
If you would like assistance with an InsMark illustration, contact any of the Referral Resources listed below.  All are InsMark Agency Platinum Power Producers®, and they are highly skilled at running InsMark software and can help you using your choice of insurance company.  Mention my name when you talk to one of our Referral Resources as they have promised to take special care of my readers.
Joint Interviews
If you want or need help from a qualified producer for joint interviews with any InsMark illustration and are willing to share the case, email us at bob@robert-b-ritter-jr.com, and we will provide you with recommendations.
Testimonials
"As I've said to anyone who will listen, Wealthy and Wise is the best piece of software in the industry."
Simon Singer, CFP, CAP, RFC, International Forum Member, InsMark Power Producer®, Encino, CA
"I am writing to give you a ringing endorsement for the Wealthy and Wise System.  As you know, I am a LEAP practitioner.  The Wealthy and Wise software has really helped me supplement my LEAP skills.  I have been paid for many cases using Wealthy and Wise as support, the smallest of which was $27,000, the largest was $363,000.  With those type of commissions, you would have to be nuts not to buy it."
Vincent M. D'Addona, CLU, ChFC, MSFS, AEP, InsMark Platinum Power Producer®, New York, NY

More Recent Blogs:
Blog #76: Smart Use of Term Coverage for Funding College Costs
Blog #75: Golden Handcuffs for Sam Hunt
Blog #74: Long-Term Care – Insure or Self-Insure
Blog #73: The Discounted Dollars Strategy (Part 2 of 2)
Blog #72: The Discounted Dollars Strategy (Part 1 of 2)
3 Reasons Why It's Profitable For You To Share These
Blog Posts With Your Business Associates and
Professional Study Groups (i.e. "LinkedIn")
Robert B. Ritter, Jr. Blog Archive