(Click here for Blog Archive)
(Click here for Blog Index)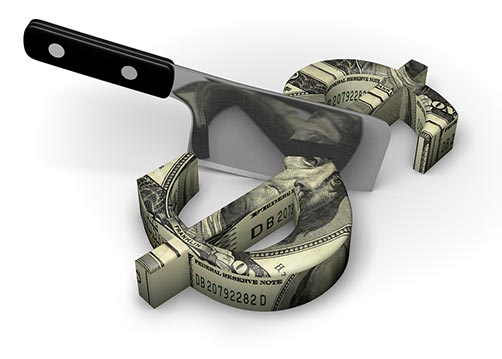 Here is a terrific way to measure the cost of funding a gift of life insurance to a qualified charitable organization: Divide the face amount of the policy into the after tax cost of the deductible cumulative premiums.  When you do this, the awesome leverage of the charitable gift becomes readily apparent.
Steve Savant and Don Prehn do their usual terrific job of examining this concept in their video below entitled "Dollars to Charity for Pennies of Cost" featuring an indexed universal life insurance policy.  The cost of the gift comes in at 5 cents for each $1.00 delivered to the charity.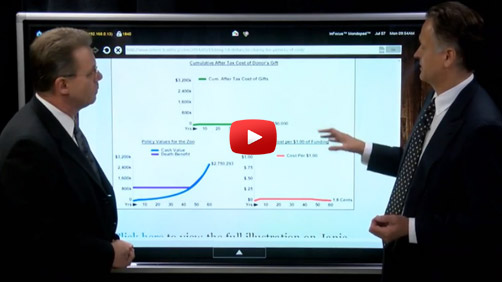 If you'd like more detail on Art and Janie's plan, see my Blog #54: Dollars to Charity for Pennies of Cost.  It includes a look at the actual illustration.
Conclusion
The discounted dollars approach can be a very effective way to demonstrate the efficiency of charitable giving.  When coupled with life insurance, it can really become dramatic.
InsMark's Digital Workbook Files
If you would like some help creating customized versions of the presentations in this Blog for your clients, watch the video below on how to download and use InsMark's Digital Workbook Files.
New Zip File Downloaders
Watch the video.
Digital Workbook Files For This Blog
Experienced Zip File Downloaders Download the zip file, open it, and double click the Workbook file name to open it in your InsMark System.
Note: If you are viewing this on a cell phone or tablet, the downloaded Workbook file won't launch in your InsMark System. Please forward the Workbook where you can launch it on your PC where your InsMark System(s) are installed.
Licensing
To license the InsMark Illustration System, contact Julie Nayeri at julien@insmark.com or 888-InsMark (467-6275), or you can click here to order it at the InsMark website.  Institutional inquiries should be directed to David Grant, Senior Vice President — Sales, at dag@insmark.com or 925-543-0513.
Referral Resources
If you would like assistance with an InsMark illustration, contact any of the Referral Resources listed below.  All are InsMark Agency Platinum Power Producers®, and they are highly skilled at running InsMark software and can help you using your choice of insurance company.  Mention my name when you talk to one of our Referral Resources as they have promised to take special care of my readers.
Joint Interviews
If you want or need help from a qualified producer for joint interviews with any InsMark illustration and are willing to share the case, email us at bob@robert-b-ritter-jr.com, and we will provide you with recommendations.
Testimonials
"InsMark is the Picasso of the financial services world — their marketing savvy never fails to amaze me."
Doug Peete, Past President – Top of the Table, InsMark Silver Power Producer®, Overland Park, KS
"I use InsMark software products because the concepts are cutting edge, well documented and supported, and user-friendly for both my clients and myself."
Wayne Weaver, Clearwater, FL
"Bob Ritter is a master of illustrating complex issues in a simple easy to use manner that definitely helps you better serve your clients."
Gary Curry, President and CEO, ORBA Financial Management, InsMark Platinum Power Producer®, Gold River, CA

More Recent Blogs:
Blog #72: The Discounted Dollars Strategy (Part 1 of 2)
Blog #71: When Life Insurance Doesn't Work — or Does It?
Blog #70: What Exactly is CheckMate® Logic?
Blog #69: Seven Variations of a Great Executive Benefit
(including my favorite)
Blog #68: A Pretend 401(k) Plan vs.
Indexed Universal Life
3 Reasons Why It's Profitable For You To Share These
Blog Posts With Your Business Associates and
Professional Study Groups (i.e. "LinkedIn")
Robert B. Ritter, Jr. Blog Archive