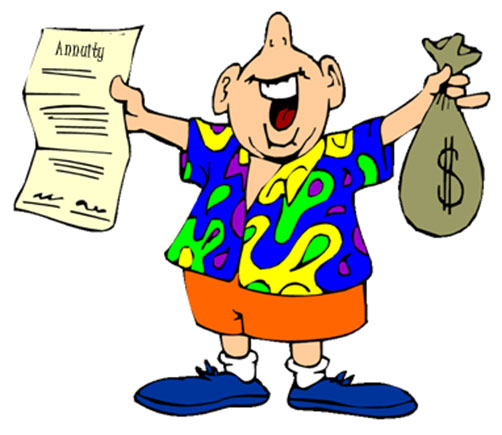 In Blog #63, I examined in detail three of the InsCalc Calculators from the InsMark Illustration System, one of which involved a Single Premium Immediate Annuity ("SPIA").  As you will see below, our Wealthy and Wise® System also does an excellent job reflecting the impact of a SPIA as an alternative investment and its effect on overall net worth and wealth to heirs.
Case Study
Aaron and Connie Bigelow, ages 75 and 70, have been holding much of their investment portfolio in cash waiting for interest yields to increase.  "Time's up," says Connie, "let's look for another alternative."  They may want to consider a single premium immediate annuity.
The Bigelows' current net worth consists of the following:
| | | |
| --- | --- | --- |
| Taxable Account | 1,000,000 | 1.00% |
| Tax Exempt Account | 500,000 | 3.00% |
| Equity Account | 500,000 | 6.00% |
| Aaron's IRA | 350,000 | 6.00% |
| Personal Residence | 500,000 | 5.00% |
| Personal Property | 150,000 | – 3.00% |
| Total Assets | 3,000,000 | |
| Liabilities | 0 | |
| Net Worth | 3,000,000 | |
Aaron and Connie's after tax cash flow requirements are $100,000 a year — with a 3.00% annual increase for inflation, and all calculations that follow include that level of cash flow.
In order to increase cash flow and ensure more stability of income, Aaron and Connie are considering the purchase of a $600,000 single premium immediate annuity ("SPIA") using funds from their taxable account.
Payments from the SPIA are guaranteed by the issuing life insurance company for as long as either of them remains alive (with at least 10 years of payments guaranteed).
I use the following website for quotes for the SPIA: www.immediateannuities.com, and it determined that the monthly income for the Bigelows would be $3,333 from a competitive carrier (annualized as $39,996 in the illustration).  In their 28% tax bracket, their after tax annualized income from the SPIA is as follows:
Years 1 – 19:  $37,611
Year 20:  $29,339
Year 21 and thereafter:  $28,797
Note:  Calculations for after tax income from the SPIA are available on the data arrays accessible from the drop-down menus on the Expected Cash Flow tab in Wealthy and Wise®.
Below is a graphic of the impact of the SPIA on the Bigelows' net worth: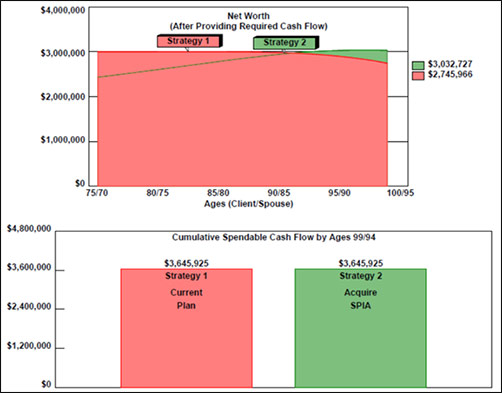 Although the Bigelows liquid assets are initially reduced by acquiring the SPIA, they believe the reduction is tolerable due to the presence of the guaranteed stream of cash flow.  Also on the plus side, their long-range Net Worth is improved by almost $300,000 due to the efficiency of the SPIA.
Below is a look at the results after 25 years for heirs: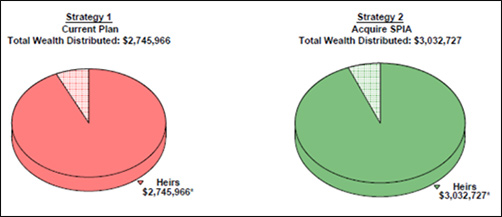 *Due to the results of "stretch-out" tax planning, the checkered section on the Heirs' slices represents retirement assets in the following amounts on which income tax is still due by the heirs: Strategy 1: $172,554; Strategy 2: $172,554.
Click here to review the Comparison reports.  For those licensed for Wealthy and Wise, see below for access to the Case Data file (Workbook) for Blog #64 where you can review all the data entry and Scenario reports for this Case Study.
Conclusion
For those seeking to lock down a portion of their retirement cash flow, a SPIA can provide an effective way to do so.  The SPIA may be particularly valuable during troubled economic times.
Licensing
To license Wealthy and Wise, contact Julie Nayeri at julien@insmark.com or 888-InsMark (467-6275).  Institutional inquiries should be directed to David Grant, Senior Vice President – Sales, at dag@insmark.com or 925-543-0513.
InsMark's Digital Workbook Files
If you would like some help creating customized versions of the presentations in this Blog for your clients, watch the video below on how to download and use InsMark's Digital Workbook Files.
Digital Workbook Files For This Blog
Download all workbook files for all blogs
Note: If you are viewing this on a cell phone or tablet, the downloaded Workbook file won't launch in your InsMark System. Please forward the Workbook where you can launch it on your PC where your InsMark System(s) are installed.
Referral Resources
If you would like assistance with an InsMark illustration, contact any of the Referral Resources listed below.  All are InsMark Agency Platinum Power Producers®, and they are highly skilled at running InsMark software and can help you using your choice of insurance company.  Mention my name when you talk to one of our Referral Resources as they have promised to take special care of my readers.
Joint Interviews
If you want or need help from a qualified producer for joint interviews with any InsMark illustration and are willing to share the case, email us at bob@robert-b-ritter-jr.com, and we will provide you with recommendations.
Testimonials
"InsMark is the best value for me in the industry."
Mike Breedlove, InsMark Power Producer®, Tyler, TX
"I have been using InsMark since it was a C:> prompt back in the early 1980s.  The new Jazz release is the most exciting upgrade to the InsMark Illustration System I've seen in 28 years!  With unlimited options for customization, you can now be as creative as you want when producing illustrations."
Chris Jacob, CFP, InsMark Power Producer®, SFI-Cadeau, St. Louis, MO

More Recent Blogs:
Blog #63: Sometimes You Just Need a Good Calculator
Blog #62: Review of the Rescue Plans
Blog #61: Sacrificing Cash Flow with a 401(k) Plan
Blog #60: Coupling College Funding With Retirement Planning
Blog #59: The InsMark Business Valuator
– A Powerful Tool For Financial Advisers
3 Reasons Why It's Profitable For You To Share These
Blog Posts With Your Business Associates and
Professional Study Groups (i.e. "LinkedIn")